Kicks Online is a P2P - type street soccer game with more than 11 years of trajectory, the current version of Kicks has new innovations such as the Kicks Market, automatic rewards system, new graphics and improvements, betting system, tournament server, random boxes , special missions of KASH & KPS, drop system, custom ranking system, challenge matches for KASH or Kicks Points, and many more implementations that we have done in the last time.
For a complete history of all the changes that have been made up to date visit:
https://kicks-online.net/
A small list of the most recognizable people who have contributed to the project:
- Taimado
- Nicolas
- Kyuura
- Reka
- Dervet
- Kikyo
- Gael
- Sinmalve
- Lequer
Click to expand...
We want to say: THANK YOU, for having been through the staff and having marked an BEFORE and AFTER of what is Kicks Online today. And for all those people who wish to be part of this adventure and join the collaboration of the project, they can fill the following form with the request.
We are giving the opportunity to all those who feel able to contribute to the project (Advertising , Programming , Designing , Event organizer or anything else that comes to your mind)
It is not necessary to have skills, only the intention of wanting to help the project is what interests us.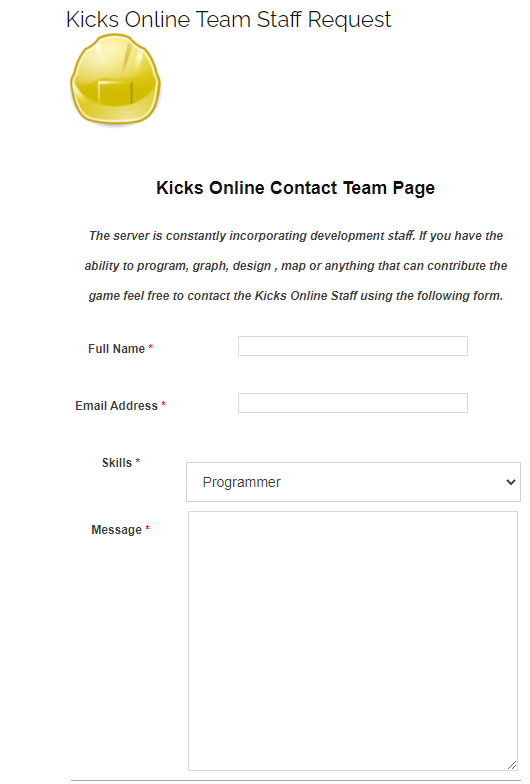 Through the following form you can send the request:
https://kicks-online.net/en/staffForm
Some examples that can be included in the request message:
* Ideas for the project in which you could contribute, detail the idea of what you could help to incorporate.
* In case of being a Programmer, explain the programming languages in which you feel comfortable to work.
* In case of being a Graphic Designer or Sound Engineer, provide a portfolio with a sample of your work done.
At the time of sending the application, it is advisable to detail as much as possible about yourself , country, age, languages you speak , skills , time availability , ideas or suggestions you might have and any knowledge you think could be helpful for the project.
Last edited: